MOBILE GRAIN SCREW CONVEYORS
EMD Series
High-performance screw conveyors with chassis
CanAGRO has established itself over the years since being established as a specialist in the area of mobile conveyor technology. Contrary to many competitors, this is the core business of CanAGRO. The screw conveyors were increasingly improved over the years and adjusted to the needs of the German market; users of the CanAgro conveyor screws are delighted about a large number of accessories and aids in everyday life.
We boldly claim that in the area of screw conveyors and auger screws in the market nobody has comparable competence.

An overview of the various product types, is available in the download area.
Special feed placed on a handle
Unique in Europe - for 15% more output and smoother running properties
Tighter thread placed on a thread ensures better grain feed in the feed part
15% more output compared to straight standard conveyor coils
Longer longevity
Lower drop in output from improved uptake of the goods conveyed also in the event of steeper conveyor angle
High performance at low rotation speeds (max. 450 r/min)
More careful conveying
Mobile screw conveyors in stainless steel (V2A/ 1.4301)
We produce screw conveyors also in full from stainless steel or on request in combination of a stainless steel cover with galvanized steel coil for use of mineral fertiliser or salt (municipal use).
Mobile grain screw conveyors with light carriage
The screw conveyors correspond to the installation of a standard screw conveyor with outlet-end motor. They are additionally fitted with a simple carriage for use within the business, for feeding manure distributors or sowing machines from the yard.
For transport on the road, this type of carriage is only conditionally suitable.
Design: varnished steel, galvanised steel or stainless steel (V2A)
Diameter: 
127 mm, 150 mm, 170 mm/180 mm
length: 5 m, 5.50 m, 6 m
Electric engine or hydraulic engine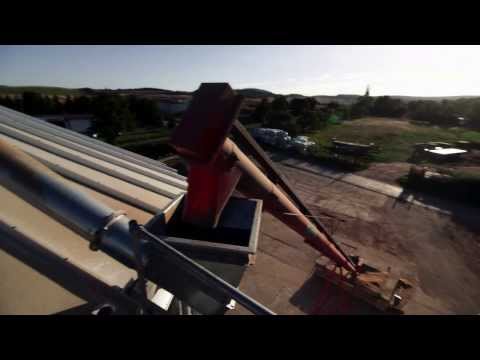 Technical details
Conveyor output: from 25 t/h to 120 t/h
Tube length: from 7.80 m to 21.30 m
Conveyor heights: up to 14.50 m
Special feed
Further features
450 r/min on the screw conveyor for careful conveying
Power transmission via angle drives and large dimension belt discs
Recessed carriage - more protrusion for optimal feeding of flat storage
Robust carriage
Suitable in particular for flexible, powerful also cross-business use
Lots of free space in the feed and outlet areas
All devices can be adjusted steplessley via a robust winch in the conveyor height
Central drive
Drive unit in the bottom third of the screw tube
Larger effective protrusion from the wheel to the outlet
Good weight balance / handling
Lots of free space in the inlet and outlet areas for flexible options of use
The suitable drive for every operation:
Petro engine
Electric engine
Two-level electric engine
Power take-off
Hydraulics engine
Combined drive - electric engine and hydraulics engine